(New Worlder) It's midday on a Monday and a perky salad whizzes past the tiny office Dante Liporace is crammed into on the second floor of the Casa Rosada. "That's for him," says the chef personally charged with feeding President Mauricio Macri at Argentina's presidential palace. The lunchtime rush is on: after prepping the presidential greens, Liporace now has to deal with a constantly ringing phone while overseeing a kitchen that will feed 800 government officials that day.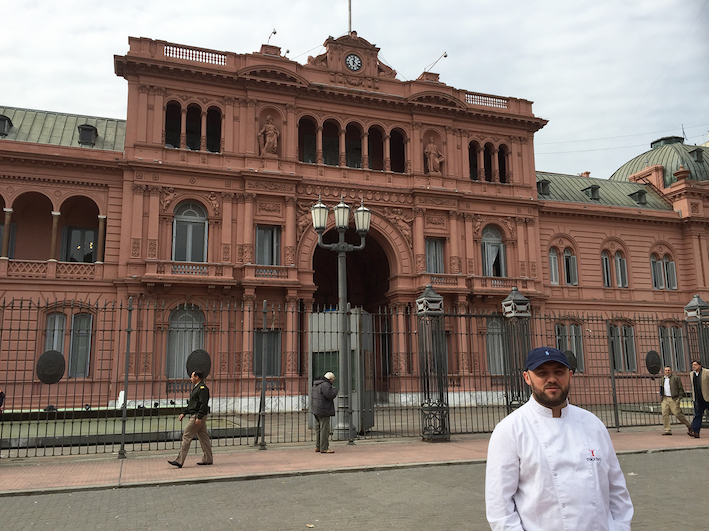 Better known for his tasting menu work at Tarquino, a fine-dining establishment in Buenos Aires' posh Recoleta district that's twice been ranked in Latin America's 50 Best Restaurants list, Liporace's background also includes training with Ferrán Adriá at El Bulli in Spain. So, a call from the Pink House was entirely unexpected when he was approached to helm its kitchen last December – a month after Macri took office and realized his dining options were takeaway or no way. Given that it's an opportunity that only knocks once, the Bahía Blanca-born cook accepted. However, turning the kitchen into a shipshape operation that breaks even financially while running Tarquino has certainly been a challenge.
As soon he stepped in, Liporace faced a slew of problems. "The kitchen was infested with cockroaches, staff didn't clean up after themselves because an outside contractor came in to do the job and did it badly, meals were served on prison-style food trays, and none of the cooks had a proper uniform: hardly any Casa Rosada staff ate here. And, cleaning staff weren't allowed to eat in the dining room, I don't know why."
For the rest of this, please visit New Worlder.