I'm a British freelance journalist and independent sommelier based in Argentina since 2006. Fluent in Spanish and a Buenos Aires resident, I specialise in Latin America, writing about food, travel and wine, with particular love for Argentina. Welcome to my work portfolio.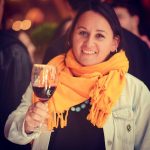 I qualified as a sommelier in December 2014, and hold WSET 3 and the Court of Master Sommeliers level one introductory certificate. I'm also a co-founder of Dill & Tonic, a ready-to-drink gin and tonic made in Argentina, which launched in July 2020. In 2021, Mil, the book I co-wrote with Peruvian chef Virgilio Martínez, will be published by Catapulta.
I've contributed to an array of publications, websites and books including The Guardian, Monocle, Decanter, Wine Enthusiast, Condé Nast Traveler (US), Wallpaper* magazine and guide books, Saveur, Departures, Fine Dining Lovers, The World's 50 Best Restaurants blog, The Points Guy, La Nación (ARG) T+L, Fortune, Condé Nast Traveller (UK), N by Norwegian, Fine Dining Lovers, Rough Guides, The Independent, MIC, Centurion, CNN Travel, Fodor's, The Points Guy, The Real Argentina, New Worlder, Lugares (ARG), Cuisine & Vins (ARG), Forbes Argentina, Buenos Aires Herald for nine years, Time Out Buenos Aires, DK Eyewitness, The Real Argentina, The Financialist and Screen International. In 2016 I won a LATA prize for an article about Salta.
Come Wine With Me is my wine blog;  I ran pop-up wine bar, Come Wine With Us, for four years and in 2020, launched Dill & Tonic, a ready-to-drink gin and tonic in Argentina.