(Buenos Aires Herald) CV
Age: 39
Born: Buenos Aires and Chubut
Lives: Southfields, London
Degree: Degree in hotel management
Job: Chef patron at Zoilo in London, Bochinche in Singapore
Currently reading: Political History of Argentina
Last movie: The Martian
Can't live without: My sorbet machine

As
The Herald
continues its series with Argentine expats who live abroad, this week we meet UK-based chef patron Diego Jacquet. He runs Zoilo restaurant in Marylebone and tomorrow he will be running the London marathon, a day that also happens to be his fortieth birthday.Talking about his move to Europe, Diego says: "I had been living in Sweden and the company I worked for, Hilton Group, told me to go and take care of the Trafalgar Hotel in London. That was back in 2003.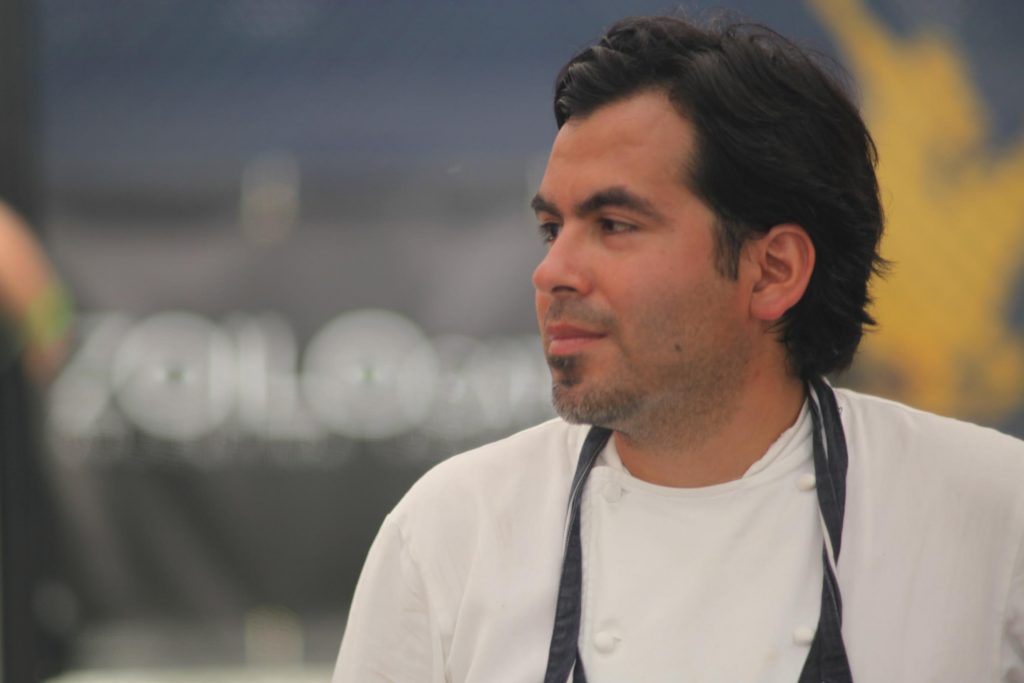 "Originally the idea was to come for three months in August; it was the group's first five-star boutique hotel and I was meant to put it in order.
"I lived in the hotel for a month, which sucks because if there's a problem, you're the one who gets called upon as you are right there! Then, with my wife, we lived in a temporary place in Charing Cross until the December."
Staying it out
Although Buenos Aires-born Diego had substantial English, he had to up his game given that he was taking on a new and more prestigious job. He says: "I spoke some English as I'd also lived in New York for a year but as this was an executive chef position, I needed a more formal level of English and had to improve my writing skills. I'd been used to talking and chatting basically, but the accent was also different from the States.
"And, while it was meant to be a temporary move, I decided to stay on in London for a few more months and took the holidays to Argentina I had planned. Then, the hotel started undergoing refurbishment and a Swedish company was hired to work on the Trafalgar. I found the design concepts so cool I decided to stay because I loved the product."
Not so tasty
Fast-forward 13 years that were interspersed with working at another boutique hotel, and in 2016 Diego now runs two restaurants, Zoilo in Marlyebone and Bochinche in Singapore. But when he first moved to the British capital, he had to adapt to the UK's food scene, which he didn't find so palatable.
Diego says: "In 2003, I was so happy to move to a big city with wide dining options but there weren't any good places to eat for 10 quid. To eat properly, you had to spend 30 quid and I really couldn't find good value for money. It was a problem back then.
"Now I understand, not just from the customer's point of view but also from a restaurateur's point of view too as no one had the possiblity of opening restaurants like we do now. London was definitely different what with the weather and everything but I fell in love with it – with the city and the pubs."
His first solo project was Casa Malevo, which opened in 2010, and it wasn't without its glitches. Diego says: "At the time, there were a few Argentine steakhouses but no good places to enjoy a cocktail as well, and that's why I opened Malevo. But it was challenging! And in every single way you can imagine, because you need to look further than the kitchen; you need to consider accounting, all the staff, paying everything. We set up the till system just five minutes before we opened on the first night, for example!
"Truth is, it was a nightmare! We worked 16 hours a day for six months without a day off but it was the best time of my life for sure. We loved it! There was so much passion and energy, and everyone wanted to push forward. It was really incredible. Hard, but very worth it."
Marathon man
While Diego has a busy life running two restaurants and being a dad, his one passion is running, and tomorrow he will compete in the London Marathon. "At weekends I dedicate time to my family and creating recipes, but recently I've been doing a lot of running and cycling. I'm running the London Marathon tomorrow and all that exercise is what keeps me sane! This is the third time I'll have run it.
"I work in the day then between lunch and dinner I go to the gym and try and train. And I love to run after service at 11pm at night, running back to Southfields where I live, through Hyde Park, to South Kensington and crossing the Thames, which is beautiful at night. I love it though it's tough.
"But when you do it for charity, you forget about how painful it is. This year I am running for two charities, Hope for Children – which my restaurant supports during the year – but also for Aparu, an Argentine association that works with kids with eye problems. I'm blind in my left eye so I try to support particular projects that are related to vision and kids.
"Running through London is very personal and I especially love doing it at night. The marathon itself starts in Greenwich, the half-way mark is Tower Bridge then it's on to Canary Wharf before reaching Buckingham Palace.
"It's amazing because it's the biggest marathon in the world. Everyone supports you, from the start to the end, giving you candy – the crowd pulls you through. Then, you get to the river and turn at Westminster and you have a mile to go, it's fantastic. It's a privilege."
South of the river
Diego lives with his family in South London, an area he's happy to call home. He says: "I live in Southfields, south London, and this is where Wimbledon is held. Everyone thinks the tennis tournament is held in Wimbledon itself but it's not – it's in my neighbourhood! So for two weeks every year, Southfields is taken over by thousands of people.
"We live near Wandsworth Common, which is very beautiful and nicknamed Nappy Valley. It's very family oriented and I live there with my wife, who originally moved to Sweden with me, my two beautiful children and my chocolate labrador."
While he visits Buenos Aires at least once a year and gets his fill of Argentine food, Diego admits to missing the big football game. "Apart from my friends and family, I miss pizza. But I also miss going to La Bombonera stadium to watch the Boca Juniors game on Sundays and everything that's related to that.
"People who watch their teams play know what I'm talking about: I miss the ceremony, getting together with friends. Now I have to watch the game in my living room at home on my own at midnight.
"And when the British weather is a bit too miserable, I miss Buenos Aires and the spontaneous actions of people getting together. Everything is more formal in the UK and has to be co-ordinated. So Sundays and football are what I miss."
After 13 years in the UK, Diego admits to having a couple of British characteristics. "I have two: I don't like to complain as it makes me very uncomfortable and that's very British! And I love the ceremony of going to the pub and observing how you grow. First you go to the pub with your mates, then with your wife and now I go with the kids and the dog. It means a big night out, or a place to enjoy a Sunday roast. It's an institution."