CV
51
From: Milan and Puglia
Lives: Belgrano
Education: Scuola Alberghiera Carlo Porta hotelery school, Milan
Profession: Cook
Currently reading: A book on Buddhism
Last film seen: American Sniper
Favourite gadget: My toolbox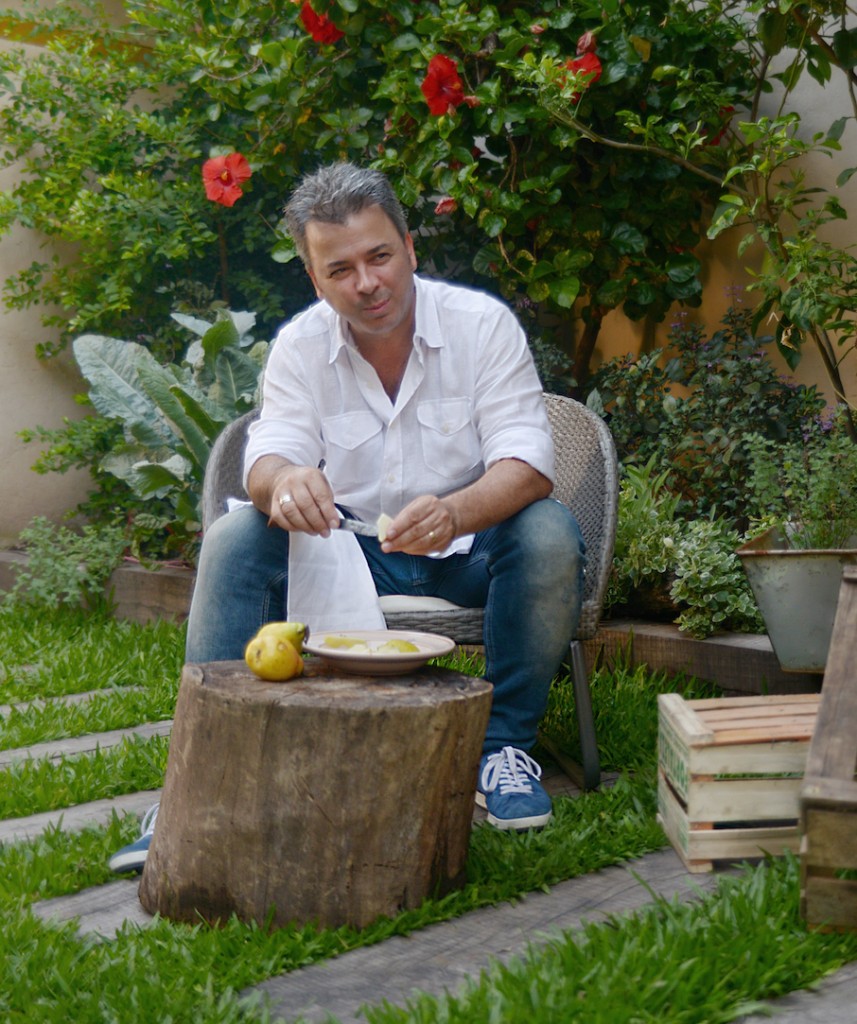 While Donato De Santis's public profile has soared considerably since he started co-hosting MasterChef two years ago, in fact the Italian cook has worked in television for the past 15 years. Based in Argentina since 1999 and married with two daughters, his restaurant Cucina Paradiso is located in Belgrano, where he also resides.
Donato says: "I was working in New York and wanted to go on a voyage of discovery. I'd heard a lot about Argentina from friends and that's where I decided to go in November 1997; I also stopped off in Uruguay. When I arrived, I felt so comfortable and liked it so much, I said to myself 'I could live here.' So I started to visit more frequently whenever I had some free time from the restaurant, over the next few years up until 1999. That's when I realized I was spending all my cash on flights coming here on holiday and that I'd have to either stop visiting and taking so many holidays or make the move permanent!
Open skies
"One of the things that captivated me was the open sky, that vast southern hemisphere sky. The first time I came, it was a 'wow' moment. When I landed, it was so clear and blue, a vast expanse, and I truly felt like I'd arrived in a different country. Other positive things also happened; plus I also met my wife! We met in 2000, a year after I moved here."
Given his conviction about his destiny, Donato's business partner didn't question his move south. "I was very direct with her, and in fact she was very supportive. I knew I was leaving the business in good hands.
"So I made the move permanent in December 1999 – in fact I'm Argentina's last official Italian immigrant of the 20th century! Unless, of course, you say the century ended in the year 2000…"
Believer
Given that he was changing gear from holiday mode to permanent lifestyle, Donato tapped into his New York contacts in order to find employment in Argentina. He says: "I had some great contacts at Cipriani restaurant and asked them if there were any opportunities at the Buenos Aires establishment. They hired me so I basically landed and started working almost immediately. It wasn't exactly what I was looking for so I moved on, but I quickly found work on TV, which appears to be a great big monster that pays a fortune although it isn't actually like that in reality. That's the period when I met Micaela, my wife.
"And even though there were difficult times, moments of political instability and economic ups and downs in 2001, I always believed in being here. I never once thought I'd made a bad decision, or was afraid. I always thought there was good energy, at least there was certainly good energy surrounding us and our work.
""When I moved to the US in the 1980s, there was still a lot of dago name-calling and attitude, and Italians only started to be appreciated in the 1990s. But being Italian in Argentina ensured an instant connection in bars, taxis, on the street, doormen, however.
"I'd ask for directions, and the reply would be 'but where are you from?' Italia. 'Ah, my dad, my daughter…' and people would tell me their whole life stories. Equally, they were curious about what I was doing here as there were fewer foreigners in Argentina at that point. Of course, I've told my story a million times now and always appreciated a short taxi ride so I could tell an edited version, but that [enthusiasm] encouraged me a whole lot. Being Italian here is the best!"
Moving to the US in 1984, Donato worked at Bice in Chicago and Palm Beach among other establishments as well as for designer Gianni Versace as his personal chef in Miami and New York City. Time spent in Florida meant he had some grasp of Spanish, albeit rather different to Argentina's dialect.
"Having lived in California, I had a Mexican accent but then I started to speak with a Cuban accent after I moved to Miami. People used to think I was Brazilian! But when I moved to Buenos Aires, I started to incorporate the famous che, vos and boludo to mimic the porteños."
In the early days, Donato lived in Balvanera, Congreso and Palermo Hollywood, but wife Micaela was responsible for his move north. "She brought me from the centre to Belgrano!" he laughs. "We've been here since 2004, 11 years. I love it. Besides being very pretty, it's also comfortable, for work, access, getting to Aeroparque airport as I travel a lot, and reaching the centre. Logistically it's fantastic."
Family style
With two restaurants, travel and TV work, Donato doesn't have a lot of free time on his hands, so he enjoys spending it with his nearest and dearest when the occasion arises. "It's all about family. I also do some sports when I can and get together with friends, but after family, my life revolves around Cucina Paradiso. We have dinner, celebrate birthdays and have get togethers here. Sometimes it would be nice to have a nine-to-five schedule and go to different places, but it's what we've chosen to do."
With a handful of very close friends and thousands of acquaintances, Donato still manages to speak plenty of Italian. He says: "Around 20 percent of my conversations are in my mother tongue, and at home we speak a mixture of Spanish, English and Italian. Wires get crossed but that's how we communicate.
"My daughters are tri-lingual and they do pretty well when they visit Italy. They've never rejected my language or said they don't understand."
US culture
Currently running two restaurants, Donato says the biggest challenge of setting up business in Buenos Aires was reaching his personal achievements. "Success, fortunately, has come without too many big obstacles thanks to my work on TV. But I have North American culture in me now, and not being able to apply that to logistics, architecture, execution and management – that it's hard for people to understand what they have to do – was hard. It was challenging! The difficult part was accepting how it was while trying to apply a little of my structure and vision to a situation."
With such a strong presence on television following the success of MasterChef, it's easy to assume that the show has changed his life. Donato disagrees. "What's changed my life is being here. Meeting my wife and living here changed my life. One period was about sowing seeds and the next period about harvesting those professional fruits. MasterChef has added a different tint to the palette of activities that I'd already been doing – being on the radio and TV, catering, writing books. It's been a more massive experience but I don't think it's changed my life – in fact it's made it a bit more complex!"
@sorrelita
Buenos Aires Herald, October 17, 2015
Ph: Jorge Arcagni