JACAREZINHO and SÃO PAULO — Did you accept my suggestion and try your daily caffeine injection naked: no milk, no cream, no sugar or sweetener? Any surprises beyond the aromas of actual coffee?
When it comes to cupping, or tasting, coffee, it's a complex ritual. Preparation is elaborate and assessment involves more than a simple slurp. After all, we're ascertaining whether it's arabica or robusta, the bean's variety (Catuaí, Bourbon, Mondo Novo or Obatã are all types of arabica grown in Brazil, for example), the degree of roasting, acidity and aromatic perceptions span floral, fruity, herbal, nutty, caramels, spicy, resinous, pyrolytic, earthy, phenolic and fermentation, a veritable spectrum of smells. And yes, the assessment spreadsheet is baffling to the untrained eye, and balancing a clipboard, pencil, spittoon and spoon while concentrating on the task at hand is a juggling-act with the potential to get messy.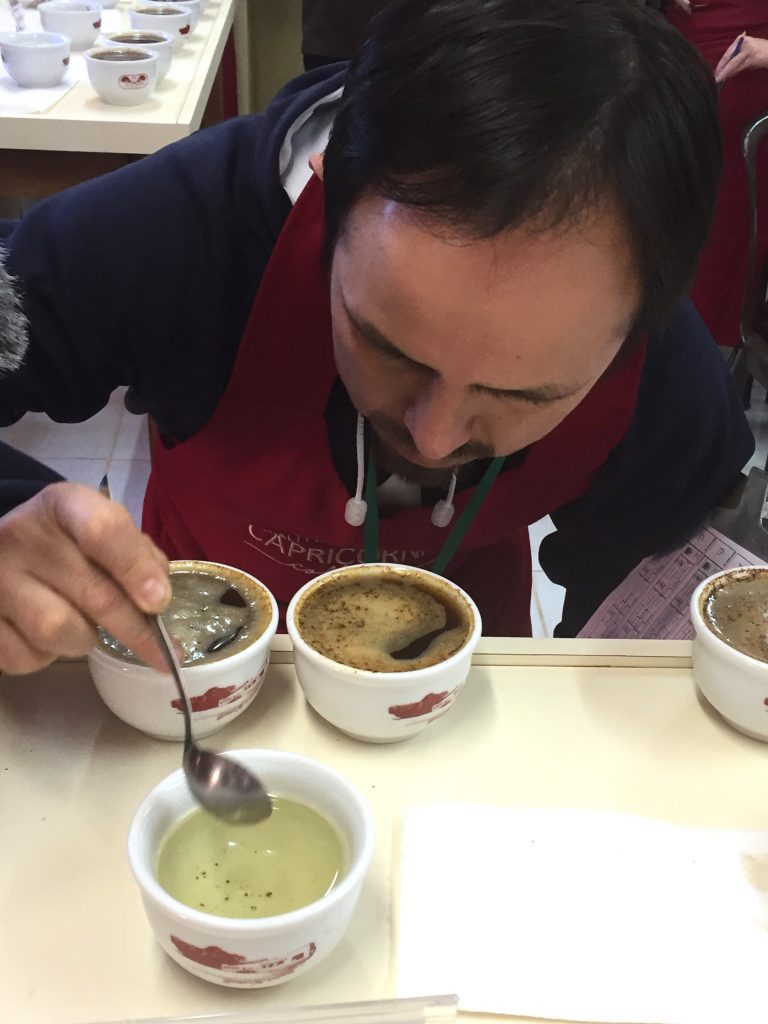 The most important aspect to cupping is the aroma. If you have beans at home, shake the bag around a little; you might be surprised that besides coffee, toasty or chocolate aromas, you might get a whiff of citrus, flowers or nuts coming through. That's the naked bean talking to you.
Smell the freshly ground beans in their dry format: placed in identical cups, shake each about a little. Here, the idea is to identify aromas while checking for defects.
Then, hot water between 92.2ºC and 94.4ºC poured from enormous kettles goes into each cup and brews for exactly four minutes, after which you "break" the coffee's foam, plunging in a rectangular spoon then moving it clockwise three times. This is when the aromas take centre stage, and once the coffee oils are removed with two spoons, the aromas sequence begins again. Those in the know — such as Luiz Saldanha Rodrigues from exporter Capricornio Coffees — use their own spoons, names engraved on the handle. As the coffee cools, the aromas change, so tasters do the rounds several times, spooning up a little and sucking the liquid into the roof of the mouth, producing a whistling sound. Spit or swallow, cupping is sampling coffee in its purest, naked form; no make-up, no add-ons.
Brazil has a reputation for dark-roasted beans that, according to Capricornio Coffees co-founder Edgard Bressani, hides a multitude of sins. The exporter, however, is looking to change that perception, microlot by microlot, by helping its small co-operative members to help themselves: as part of Argentina's Exigí Buen Café coffee fair organised by journalist Sabrina Cuculianksy, we're here for our own close-up of Capricornio Coffees' projects in Brazil.
Part of Capricornio's mission is to build a bridge, developing an industry that, until recently, was about growers growing and buyers buying, with little to no interaction in the middle, and certainly little, if any, social responsibility.
By providing small cafeteros with the tools they need to grow better-quality products, the Paraná-based exporter teaches them how and why they should undertake select picking directly on the plant and how to pulp, among other processes. Many cafeteros get to sample the specialty end product in all its naked glory for the first time at Cupping Academy.
Luiz says: "Brazil is known for having big coffee farms but Capricornio only shows off smaller ones: we want farms to be sustainable and farmers to have a good quality of life. We give small cafeteros knowledge, helping them to produce exceptional quality, which means they get paid better in the long run. Traceability, putting names and faces behind each coffee, is also very important.
"One women's cooperative, Mulheres do Café de Matão, has learnt how to evaluate their own coffees: they'd never pulped coffee before but together they invested in a pulping-machine. They all work together, picking daily from each other's farms. We taught them how to dry and in 2015, two Cup of Excellence winners came from that co-op.
"It's more than just harvesting coffee ­— it's about economical development as well as social and environmental stability," he says.
A high-quality coffee exporter, Capricornio focuses on farms based around Brazil's latitude 23º south, the Tropic of Capricorn, which forms part of the southern hemisphere's coffee belt. Many connoisseurs insist that altitude plays a vital role in speciality coffee but the exporter begs to differ. With an array of products selling into Australia and Eastern Europe among other places, the company also has a bespoke co-op project called Four Seasons.
"The 380 families involved with Four Seasons grew quality cherries but they didn't know what to do with them. We've helped them to maximise what they have," Luiz adds.
Talking traceability, I get to put names and faces to one family who sells 80 percent of its beans to the Four Seasons project. While I was expecting a humble farm located in São Paulo state, it was quite the opposite. Fazenda Bananal, however, has a wonderful history dating back to 1904 when a Lebanese immigrant fell in love with a section of Sao Paulo's rich and fertile terroir — then marries the landowner's daughter.
Fazenda Bananal has about 200 hectares of coffee under plantation; the rest of the 1,700-hectare estate deals in Brazilian agriculture's current darling sugar cane. "It helps to balance the books," says family member, Carolina.
While the boom years of mass production are behind this particular farm, the decision the family took a few years ago to produce premium coffee beans is starting to pay off. The fazenda recently planted several hectares of Yellow Catuai and farm team leader Paulo Nazzi, who's worked at Bananal for 23 years, has been preparing more mineral-rich red land ahead of planting next summer.
In São Paulo, both Carolina from Bananal and Edgard from Capricornio recommend I buy some coffee at Empório Santa Luzia, touted as one of the best places in the city. I head over to the supermarket in Jardim Paulista neighbourhood where the first floor is dedicated to beans, ground, capsules, organic and decaffeinated coffee and a small selection of trendy filters.
Armed with my new-found knowledge, I decide to only buy brands naming coffee varieties. It's proves harder than I imagined. I pick up two bags name-checking Bourbon and Catuai, but that's the sum of it. It's disappointing that even in coffee Mecca São Paulo not many brands sold name varieties, something I now consider to be a basic right to know when it comes to consumption. Let's use the wine equation, we specifically order malbec, chardonnay and merlot. We should do the same when it comes to Brazilian coffee and by doing so, are ensuring we know its origin.
The truth is, conscientious exporters such as Capricornio keen to give microlots and speciality coffee an identity appear to be few and far between in Brazil. There's plenty of work to do before we wake up and really smell the Brazilian coffee.
Buenos Aires Herald, 14 July 2017