(50 Best blog) While Germán Martitegui is regularly mobbed for selfies by fans of MasterChef Argentina, the chef-patron of Tegui and former TV show co-host retains a relatively low profile outside the Spanish-speaking world. So who is the man behind the Buenos Aires establishment that's enjoyed four consecutive years in the top 10 of Latin America's 50 Best Restaurants and has now become the first Argentine restaurant to make The World's 50 Best since Francis Mallmann's 1884 ranked seventh in the inaugural 2002 list?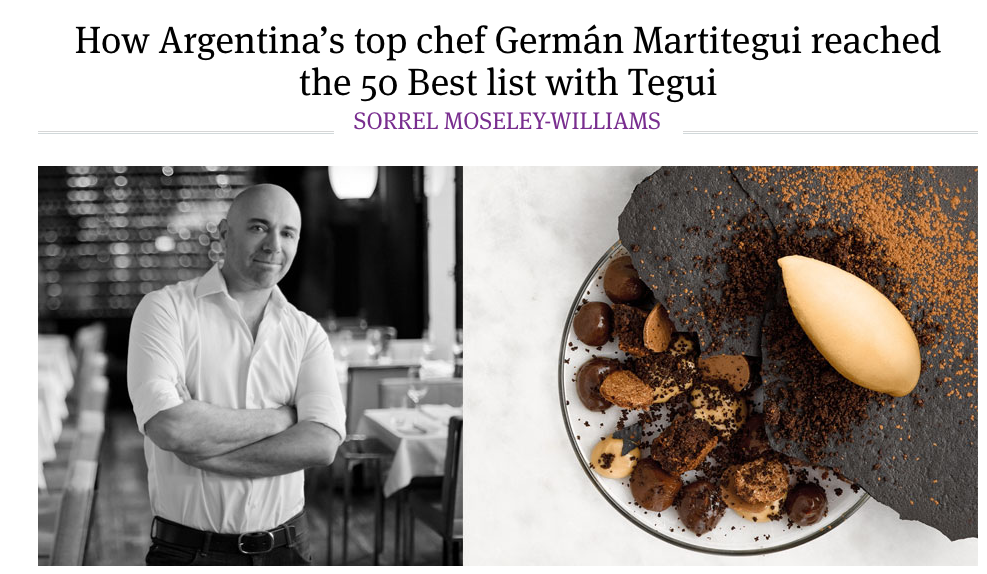 Although he started an international relations degree at university, there were early – and obvious – signs that Martitegui would never take the diplomatic path. Growing up in Necochea, a small coastal town located in the province of Buenos Aires, and inspired by his grandmother, the precocious 10-year-old Martitegui would regularly whip up croquembouche for his cousins' birthdays: "I'd spend two days making profiteroles but something would slide off just before the party. It was torturous. But that dish was the first hit of my career," he laughs.
His culinary future became reality when, aged 19, he replaced a friend working in the kitchen of Beatriz Chomnalez, the pâtissière who fast became Martitegui's mentor. "She was my first teacher and no one else would have had that effect on me at that time. If Beatriz had been giving bonsai classes, I'd be caring for tiny trees today. She marked my career," he says. Classic French cuisine swiftly, and inevitably, replaced international relations.
For the rest of this please visit The World's 50 Best blog.